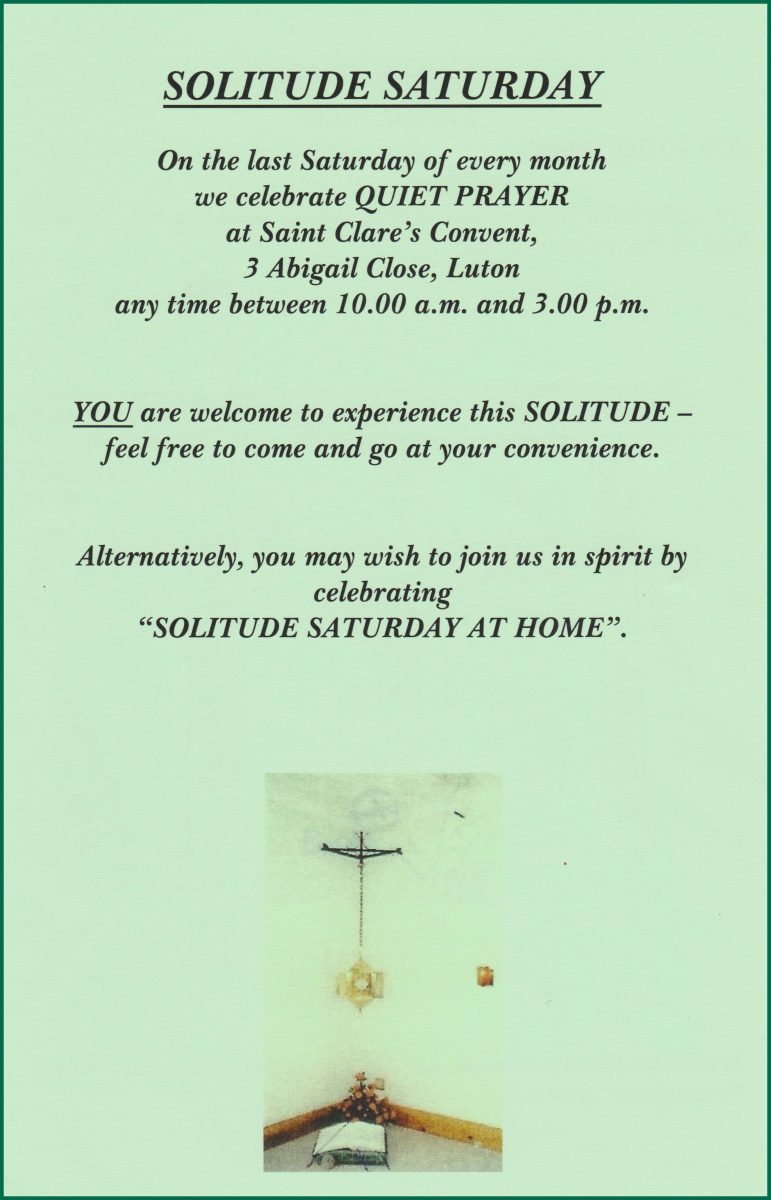 A SILENT SOLITUDE WALK:
On Solitude Saturday, in addition to your prayer time spent in the Chapel with Exposition of the Blessed Sacrament, you are invited – weather permitting – to spend some quiet time taking a Silent Solitude Walk in the Prayer Gardens – front & Back of the Convent enjoying the peace and beauty of the different Sacred Spaces you will discover. You may wish to borrow a warm  PRAYER SHAWL from the chest provided – and a ROSARY BEADS.
IN THE NAME OF THE FATHER AND OF THE SON AND OF THE HOLY SPIRIT. AMEN
A suggested route for your silent Solitude Walk could begin at:

Our Lady's Statue- praying for all the Sick and Suffering

The Cross- remembering those who are Worried, Sad or Homeless

The Waterfalls/River Bank – listening to the sound of the water and thanking God for his blessings- thinking about your Family and Loved Ones

Statue of St Francis – praying for peace and forgiveness in your own heart.

The Stations of the Cross – Choose one Station and meditate on it.

The Poustinia – close the door and spend a little time sitting alone.

Go through the Enclosure Gate – pray for Religious Sisters and brothers.

The Inner Poustinia "Bethlehem" – another Sacred Space just to be still

The Cloister Garden – Sit and talk to God who loves you unconditionally and can't take his eyes off you

The Sanctuary Garden – Sit beside the Rock and Water feature- pray for Pope Francis, the whole Church, Our World and our Mother Earth.

The Hermitage – Let God speak to you in this place of absolute Silence

End you Silent Solitude Walk Returning to Our Lady's Statue.